8 August 2022 | Chris Roe
Wagga's Spring Jam returns after two years off. Photo: Wagga City Council.
If the end of a cold winter isn't enough to get you excited for spring, the return of Wagga's Spring Jam in September is another reason to celebrate.
After a two-year hiatus through the COVID-19 pandemic, the free family festival will return to the Wagga Botanic Gardens with a jam-packed program tailored to kids aged between two and twelve.
"We're thinking another beautiful spring day with lots of fun adventure and activities," said Wagga council's events officer Sally Manning.
"We've got obstacle courses, we've got live music from Bunny Racket, we've got lots of creative workshops, we've got Scrap Boy from dirtgirlworld coming and we'll make some mud pie creations.
"We have a chilled-out zone, some yoga offerings and mindfulness sessions. There's really something for everyone."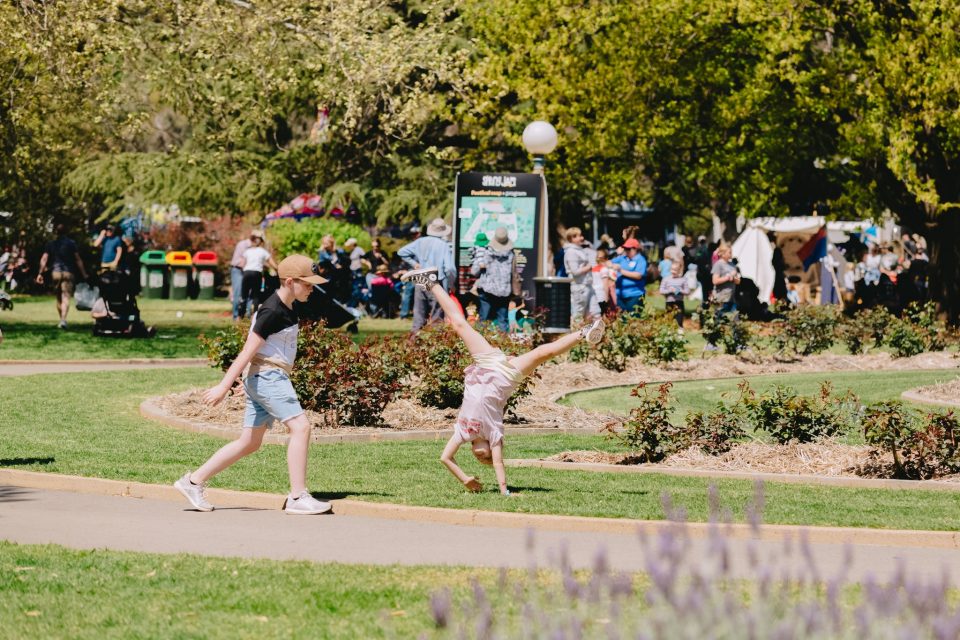 Entry to the gardens is free, and the events team hope families will pack a picnic or purchase lunch from some of the food stalls on offer.
Sally said it would be a chance for families to put COVID-19 and the cold weather behind them.
"It's been a cold winter and there's obviously been a lot of sicknesses around as well so people can come out, enjoy the fresh air, enjoy the facilities that we have here in the city and reconnect," she explained.
"It's also a really important event for our tourism and our destination. So ultimately, we'd like to grow to become a destination event where people come and visit from outside the region to the children's festival that happens every spring in Wagga."
It's been a busy year for Wagga City Council with a diverse range of returning events such as the Comedy Festival, the recent mountain biking event at Pomingalarna and the Festival of W.
"We're really happy with how Festival W turned out, everyone's been very supportive," said Sally.
"We've had lots of really positive feedback and really good attendance records from within the city and also outside of the city as well.
"So we're really happy with how events are tracking in the city after COVID."
She explained that regular events and festivals are an important part of the region's tourism strategy.
"We do have a lot of people coming in for the day from outside of the regional areas surrounding Wagga," she said.
"We are also in a perfect location between Melbourne and Sydney and Canberra and that's the market that we're always trying to tap into."
The Spring Jam will be held on Saturday, 24 September in the Wagga Wagga Botanic Gardens and Wagga City Council is still looking for expressions of interest from food vendors.
Author : 8 August 2022 | Chris Roe
Originally sourced from regionriverina.com.au/spring-jam-is-back-as-waggas-festival-program-returns-to-full-bloom/7035/