Australia's economy is entering a new phase following 12 consecutive cash rate hikes since May 2022. With the cash rate currently in a 'hold' pattern (at 4.1%), there is a multiplier effect on all facets of life. How does this impact the property market for the rest of 2023 and early 2024? And is the cash rate the only issue?
How Multiple Layers Shape Local Property Markets
The latest PRD Australian Economic and Property Report 2023 aptly portrays the complexities that impact our property trends and how these variables interact with each other to shape local markets. Regardless of capital or regional areas, we are seeing some pockets still recording (different levels of) price growth. Yet simultaneously other pockets are recording declining prices.
PRD Chief Economist, Dr Diaswati Mardiasmo says it is incredibly fascinating to untangle the different layers of numerous factors that interact and shape property trends, resulting in local market variance.
"Cash rates play a role, as they determine our borrowing power and what we can afford. Yet in some markets, cash rates play less of a role, due to demand and supply imbalance," Dr Mardiasmo said.
"What's more, individual household and financial readiness add another layer of complexity to the decision making. Plus, as if our property layers are not complex enough, our demographics are shifting."
PRD Managing Director, Todd Hadley said there is a multitude of factors that impact demand and supply at a local level and a divergent method of managing these factors. Thus, "How Multiple Layers Shape Local Property Markets" is the key focus of our report.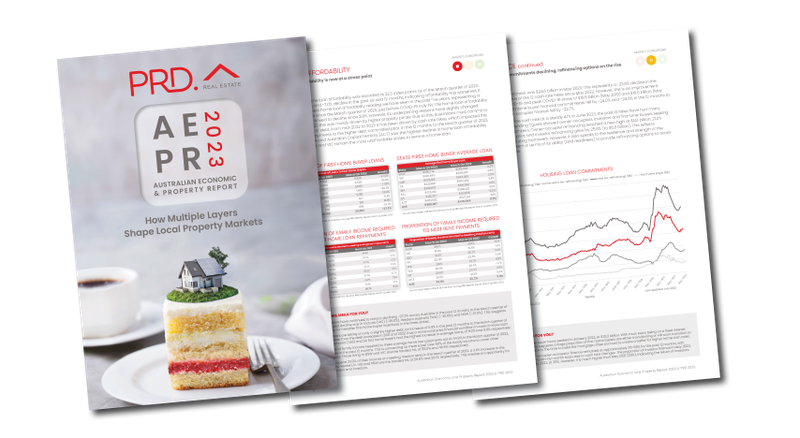 Download report:

PRD Australian Economic and Property Report 2023
Key findings include:
Australia's property market has performed on par with other countries. On a world scale, our median house price sits in the middle range. We are on par with the United Kingdom, but more expensive than France and Japan. We are more affordable than New Zealand, USA and Canada.
Between June 2019 (pre-COVID-19) and June 2023, Greater Hobart and Greater Brisbane had the highest median house price growth, of 44.2% and 41.2% respectively.
Greater Sydney and Melbourne markets fluctuated heavily in the past 12 months since the May 2022 cash rate hikes. Greater Brisbane and Greater Perth are the most resilient markets.
Regional South Australia recorded the lowest median house price in the 1st Half of 2023 but has had the highest median house price growth in the past six months, indicating it is a more resilient market.
First home buyers have continued to retract in the 12 months to the March quarter of 2023. The largest decline was in Victoria (-35.0%), Western Australia (-30.9%) and New South Wales (-27.0%).
June settlement volumes finished the financial year strong, at a comparable volume to the prior (2020-2021) boom year. That said, in the past three months to the June quarter of 2023, VIC buyers showed the highest reluctance to buy a property.
"At present, our stable cash rate has created a ray of hope and a steadier "base" to our layer of property factors. This has a multiplier effect on the household budget and individual finances, as well as some business costs. However, there are still multiple layers at play, with a different impact to a particular local market", Dr Mardiasmo said.
"Without a doubt, we have numerous issues within our property market. However, it is through these challenges that we formulate solutions. Our housing shortage is at the core, causing multiple effects for household affordability that impact buyers, owners, investors and renters", Mr Hadley said.